2021 Market (Info Click Blue
Links)
What Record-Low Housing Inventory Means for You
Where Have All the Houses Gone?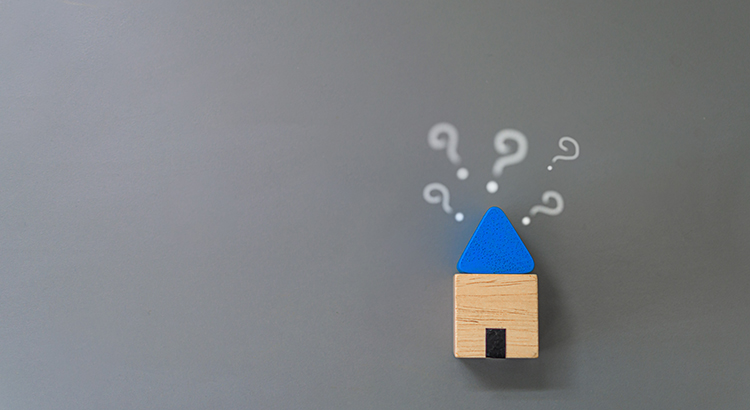 In today's housing market, it seems harder than ever to find a home to buy. Before the health crisis hit us a year ago, there was already a shortage of homes for sale. When many homeowners delayed their plans to sell at the same time that more buyers aimed to take advantage of record-low mortgage rates and purchase a home, housing inventory dropped even further. Experts consider this to be the biggest challenge facing an otherwise hot market while buyers continue to compete for homes. As Danielle Hale, Chief Economist at realtor.com, explains:
"With buyers active in the market and seller participation lagging, homes are selling quickly and the total number available for sale at any point in time continues to drop lower. In January as a whole, the number of for sale homes dropped below 600,000."
Every month, realtor.com releases new data showing the year-over-year change in inventory of existing homes for sale. As you can see in the map below, nationwide, inventory is 42.6% lower than it was at this time last year: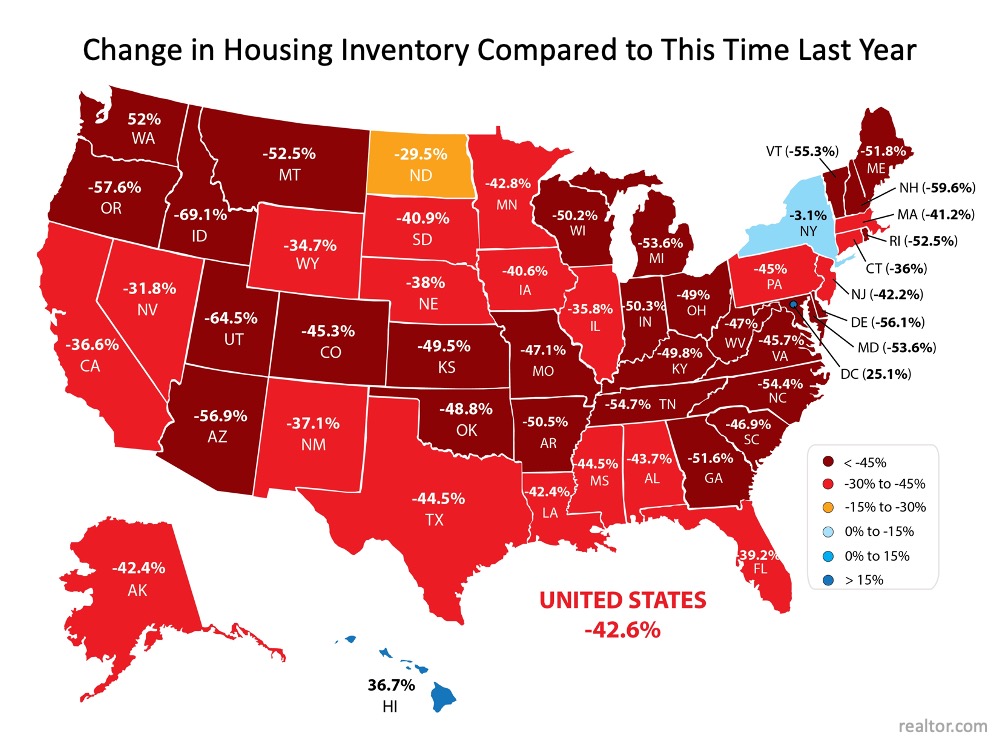 Does this mean houses aren't being put on the market for sale?
Not exactly. While there are fewer existing homes being listed right now, many homes are simply selling faster than they're being counted as current inventory. The market is that competitive! It's like when everyone was trying to find toilet paper to buy last spring and it was flying off the shelves faster than it could be stocked in the stores. That's what's happening in the housing market: homes are being listed for sale, but not at a rate that can keep up with heavy demand from competitive buyers.
In the same realtor.com report, Hale explains:
"Time on the market was 10 days faster than last year meaning that buyers still have to make decisions quickly in order to be successful. Today's buyers have many tools to help them do that, including the ability to be notified as soon as homes meeting their search criteria hit the market. By tailoring search and notifications to the homes that are a solid match, buyers can act quickly and compete successfully in this faster-paced housing market."
The Good News for Homeowners
The health crisis has been a major reason why potential sellers have held off this long, but as vaccines become more widely available, homeowners will start making their moves. Ali Wolf, Chief Economist at Zonda, confirms:
"Some people will feel comfortable listing their home during the first half of 2021. Others will want to wait until the vaccines are widely distributed."
With more homeowners getting ready to sell later this year, putting your house on the market sooner rather than later is the best way to make sure your listing shines brighter than the rest.
When you're ready to sell your house, you'll likely want it to sell as quickly as possible, for the best price, and with little to no hassle. If you're looking for these selling conditions, you'll find them in today's market. When demand is high and inventory is low, sellers have the ability to create optimal terms and timelines for the sale, making now an exceptional time to move.
Bottom Line
Today's housing market is a big win for sellers, but these conditions won't last forever. If you're in a position to sell your house now, you may not want to wait for your neighbors to do the same. Let's connect to discuss how to sell your house safely so you're able to benefit from today's high demand and low inventory.
The real estate market is expected to do very well in 2021, with mortgage rates that are hovering at historic lows and forecasted by experts to remain favorable throughout the year. One challenge to the housing industry, however, is the lack of homes available for sale today. Last week, the National Association of Realtors (NAR) released their Existing Home Sales Report, which shows that the inventory of homes for sale is currently at an all-time low. The report explains:
"Total housing inventory at the end of December totaled 1.07 million units, down 16.4% from November and down 23% from one year ago (1.39 million). Unsold inventory sits at an all-time low 1.9-month supply at the current sales pace, down from 2.3 months in November and down from the 3.0-month figure recorded in December 2019. NAR first began tracking the single-family home supply in 1982."
(See graph below):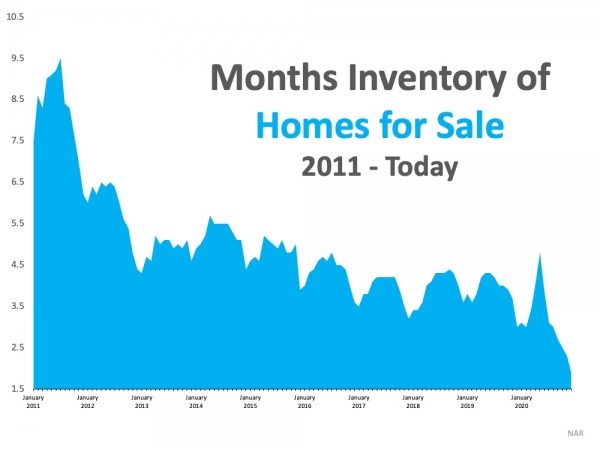 What Does This Mean for You?
If You're a Buyer:
Be patient during your home search. It may take time to find a home you love. Once you do, however, be ready to move forward quickly. Get pre-approved for a mortgage, be prepared to make a competitive offer from the start, and know that a shortage in inventory could mean you'll enter a bidding war. Calculate just how far you're willing to go to secure a home and lean on your real estate professional as an expert guide along the way. The good news is, more inventory is likely headed to the market soon, Lawrence Yun, Chief Economist at NAR, notes:
"To their credit, homebuilders and construction companies have increased efforts to build, with housing starts hitting an annual rate of near 1.7 million in December, with more focus on single-family homes…However, it will take vigorous new home construction in 2021 and in 2022 to adequately furnish the market to properly meet the demand."
If You're a Seller:
Realize that, in some ways, you're in the driver's seat. When there's a shortage of an item at the same time there's a strong demand for it, the seller is in a good position to negotiate the best possible terms. Whether it's the price, moving date, possible repairs, or anything else, you'll be able to request more from a potential purchaser at a time like this – especially if you have multiple interested buyers. Don't be unreasonable, but understand you probably have the upper hand.
Bottom Line
The housing market will remain strong throughout 2021. Know what that means for you, whether you're buying, selling, or doing both.